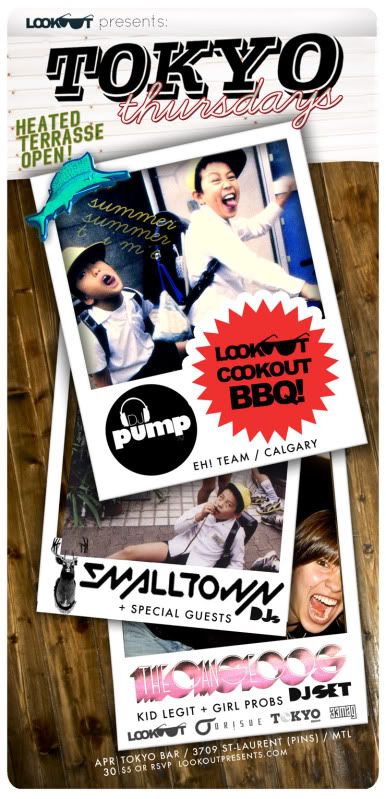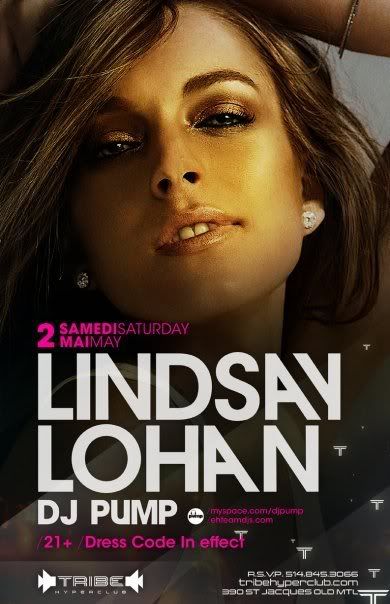 Some good parties in Montreal this week:
TOKYO LOOKOUT COOKOUT BBQ + SHOUT OUT OUT AFTER PARTY w/ DJ PUMP + SMALLTOWN DJ'S + SHOUT OUT (DJ SET).
Alberta invades Montreal. The Calgary homies Pete Emes & Mike Grimes, also known as
Smalltown DJ's
are currently on the road with Edmonton's
Shout out out out out
for their REINTEGRATION TIME TOUR. Go check them out at La Sala Rosa. They're great live! Also, Make sure to check us out at Tokyo for the after party!
LINDSAY LOHAN + DJ PUMP @ TRIBE
I guess she will be rapping while i'm djing?! Maybe we'll battle? lol.
Check it out on Perez Hilton's site and what he said:
http://perezhilton.com/2009-04-28-shes-got-bills-to-pay