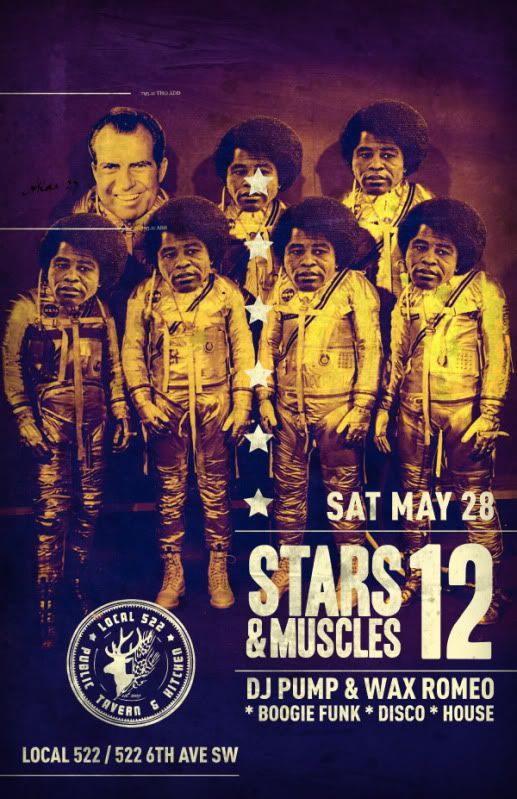 S&M #12
- May 28th. We're back. I thought you knew?
- We hope we see you
- We hope you see us
- We have history. It gets sticky.
- Wipe me down, Fox.
- Might go blonde.
- Funki, funkee, funky.
- PLUR
- Some people think I eat too many chocolate bars
- We need a nurse.
- Don't be weird about it.
- Another day, another donut
- C'mon babe, we didn't mean it like that.
- Let's do it again.
As usual, we did a mixy. This one is for when you're getting ready to go out, and the sun is just going down.
STARS & MUSCLES 12 Mix by DJ Pump & Wax Romeo:
http://www.mediafire.com/?zoga989ciqqvnac
1. Dr Hook - Sexy Eyes
2. Roysopp - Eple (Fatboy Slim rmx)
3. Joey Negro (but he's white) - Why? (JN Block Party mix)
4. In Flagranti - Anglo-Saxon Pragmatism
5. Vitalic - Allan Dellon
6. Solomun - Love Recycled 2
7. Eddie C - Deepa
8. James Curd - Left The Ground
9. Richard Richard - Garbure
10. Grandtheft - Let Me Out (Eli Escobar rmx)
11. Consistent - Higher Feel
12. FoxFace - Take Advantage
13. Steffi - Yours
14. Azari & III - Indigo
15. Joris Voorn - Incident (Miyagi rmx)
16. Danny Daze - Fall Away From Love