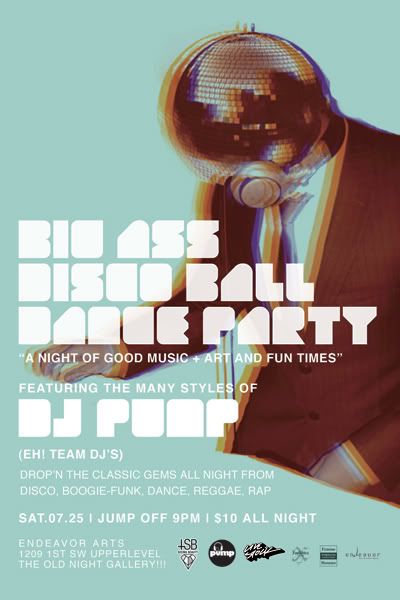 Calgary bring your dancing shoes.
[[[ BIG ASS DISCO BALL DANCE PARTY ]]]
a night of good music, art and fun times.
Saturday | July 25 2009
ENDEAVOR ART GALLERY
Suite 200, 1209 1ST SW - upper level (The old Night Gallery!)
Featuring the many styles of DJ PUMP (Eh! Team DJ's)
playing all the classic gems from Disco, Boogie-Funk, Dance, Reggae, Rap and all that good stuff. Dedicated to all you music heads, you already know the deal... It's Party Time!
DOORS @ 9PM | $10
TICKETS AVAILABLE @ Livestock, Giant 45, The Gallery, Worth, Boutik, Forbidden Clothing, Pink or Blue, and Rumors.