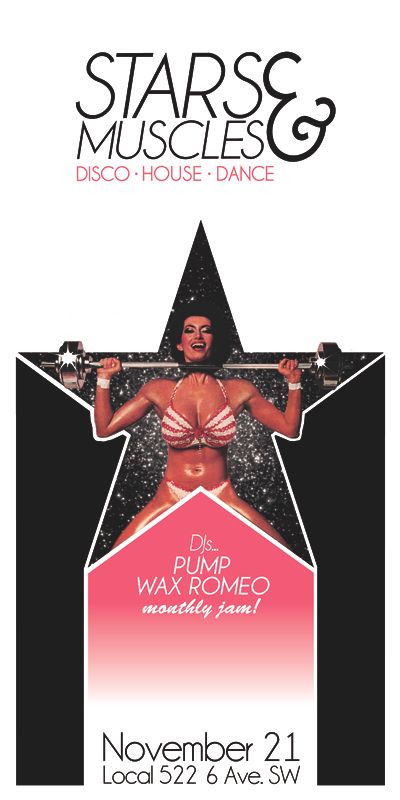 Wax Romeo (of
Smalltown Romeo)
and i just did a mix together to kick off our new monthly party in our hometown, Calgary called "Stars & Muscles". It's mostly disco, house and 80's shit. . Enjoy the mix:
Stars & Muscles Mix by DJ PUMP
In Flagranti - Mini Sell
John Ozila - Funky Boogie
Joe Bataan - Mestizo
Neighbourhood Romeo - Four Girls, Bi Girls.
Simian Mobile Disco - Cruel Intentions
Clap Rules - Old Sequencer
Jessica 6 - Fun Girl
Sexual Harassment - I Need A Freak
Mach - On and On (Leftside Wobble edit)
Markus Nikolai - Bushes (Norman Cook remix)
Smalltown Romeo - Boom (Meterhead remix)
Green Velvet - The Case Of The Lost Jacksters
Bobby Blanco - 3 AM
Rockmaster Rus B - Woe There
Calagad 13 -Get On Down
Bag Raiders - Shooting Stars (Shazam Remix)
Chromeo - Night by Night (Smalltown DJs Remix)
Luther Vandross - Never Too Much (ODahl Remix)
La Roux - Bulletproof (Copycat Italo Remix)
Carmen - Throw Down
Drop Out Orchestra - Gibbon
Pointer Sisters - Send Him Back (Pilooski edit)
Cosmo Vitelli - Sex Attack (DJ Pump edit)
Milton Hamilton - My Love Supreme (DJ Pump edit)