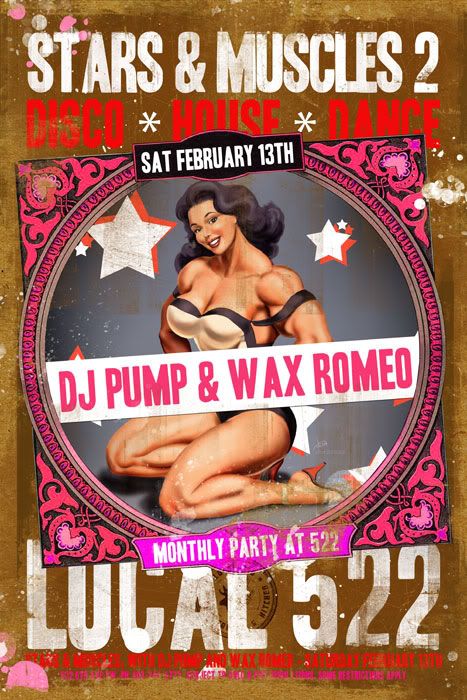 Oh Shit! The S.T.U.D.S. are back. After a 2 month hiatus, filled will waxing, tweezing, and plenty of chocolate Mai Tai's, DJs Pump and Wax Romeo are getting down again for another edition of Stars and Muscles.
Last time was stupid fun; full of good times and great hormones, and this one will be even better, with cheap drinks and even better sound. Come down and jam with these 2 stallions as they run through a toned and tanned mix of disco, funk, italo, house, 80's, dance and all kinds of other fun shit. No commercial jams.
Gonna be a party, so see you then, 'cause Stars are forever, and Muscles are for fun. B.Y.O.S.***
(Bring Your Own Sweat)*** "
DOWNLOAD HERE:
(DIVSHARE)
(MEDIAFIRE)
Milton Wright - Keep It Up
Den Haan - Release The Beast
Les Rhythmes Digitales - (Hey You) What's That Sound?
U-Tern - Who's Gettin' It Now?
Lindstrom - Another Station -(Todd Terje remix)
Wax Romeo - "Star Search" in Tibet?
Harry Thumann - Underwater
Bee Gees - You Should Be Dancing (Tangoterje mix)
Neighbour - Dancing with the Stars
Smalltown Romeo - Love Tempo (in Flagranti Remix)
Romanthony - Let Me Show You Love
Cajmere - Brigther Days (Bladerunners Edit)
Bob Sinclair - Gym Tonic (Thomas Bangalter Mix)
DJ Pump - Play The Game
Pilotpriest - Zipper
Hess Is More - Ssshhhh (Zombie Disco Squad Remix)
Inner City - Big Fun (Simian Mobile Disco Remix)