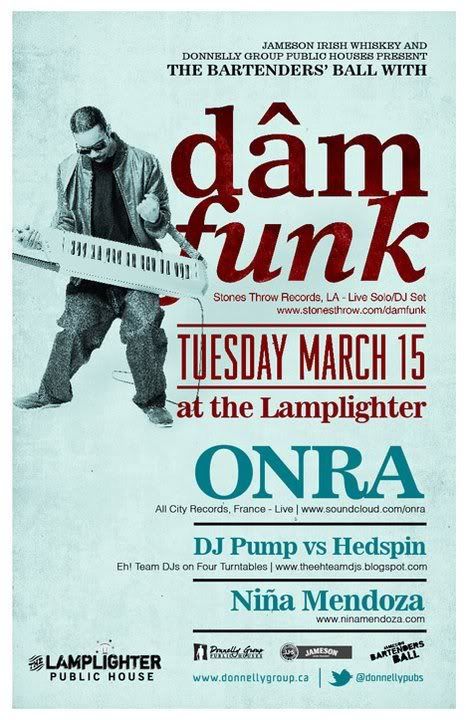 Vancouver peeps: Do not miss this show. It's a free event after all, lucky you!
It's going down at the Lamplighter tonight, March 15th featuring special live performances from DâM-Funk & Onra plus DJ's Pump & Hedspin on four turntables & Niña Mendoza. The party starts at 9pm and goes all night. Complimentary Jameson cocktails before 11pm. Gyeah!
RSVP ts@donnellygroup.ca
The Lamplighter Public House, 92 Water Street, Vancouver, BC
Featuring:
DâM-FUNK (Stones Throw)
http://www.stonesthrow.com/damfunk
ONRA (France)
http://www.soundcloud.com/onra
DJ PUMP vs. HEDSPIN (Eh! Team DJs)
http://theehteamdjs.blogspot.com/
NIÑA MENDOZA
http://www.ninamendoza.com/
Here's a lil funky tune to set things off proper.
SMOOVE by DJ PUMP