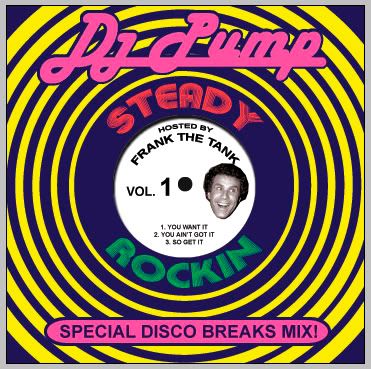 I made this mix in 2006 using some of my best record collection of funk, disco and all other dope obscure breaks that i have on vinyl. Some are converted from analog to digital (45's, LP's & 12's), and some are actual mp3's from digging on line. To all you beat heads - Yes, i still buy records to this day but i also dig for tracks online. It's 2008 after all.
I am posting this to build some hype for my next disco mix and on the real, it's coming reaal soon :)
All the best to you & yours in 2009!
Enjoy.
STEADY ROCKIN VOL. 1
1. Steady Rockin The Party Intro
2. Spoonie G - Love Rap
3. Wayne Mghie Break
4. Uncle Louie - I Like Funky Music
5. Radiance - This Is A Party
6. Grand Master Flash - Flash To The Beat
7. Zapp Party Break
8. Rick Summer - Shake It Up
9. Positive Force - We Got The Funk
10. Jackson 5 - The Mirrors Of My Mind
11. Fatback Band - Fatbackin'
12. Bell & James - Livin' It Up (Friday Night)
13. Weeks & Co. - Rock Your World
14. Secret Weapon - Must Be The Music
15. Cissy Houston - Think It Over
16. Dr. York - Shake-n-Skate
17. The Marvelous Three & The Younger Generation - Rappin' All Over
18. Gino Dentie & The Family - Direct Disco Break
19. Heard It Through The Grapevine Break
20. Harvey Scales - (Show Up) For The Showdown
21. King Tim II - Personality Jock
22. Steady Rockin Break
23. Sambo Soul - Mambo #5
24. Two Man Sound - Que Tal America
25. Carol Douglas - Love Sick
26. Lord Rhaburn - Disco Connection
27. Ross Carnegie - F Minor Disco / Sizzle - Love Is All Around
28. Black Heat - Love The Life You Live
29. De Wolfe Music Librairie - Party People
30. Wood, Brass & Steel - Funkanova
31. Barry Kunzel - Supervisor
32. Secret Break
33. Southroad Connection - You Like It, We Love it
34. Nightlife Unlimited - Peaches And Prunes
35. Tropique - The Runner
36. Crown Heights Affair - Dreaming A Dream
37. New Mastersounds - Nervous
38. Bus People Express - Augusta Georgia
39. Nina Simone - Funkier Than A Mosquito's Tweeter
40. R.D. Burman - Aa Dekhen Jara
41. Hungarian Break